Parents and guardians, please use the QR code to complete the Conner Street Elementary Title I Survey. The survey will close May 13th. Thank you!

Conner Street Elementary will wrap up our Read-a-thon with celebrating Read Across America Week February 28 ~ March 4, 2022 with various activities and dress up days. Please see the flyer or ask your student's teacher for more information. Monday 2/28- "The Sleep Book"- Wear your pajamas Tuesday 3/1- "If I Ran the Zoo"- Wear clothes with an animal or animal print Wednesday 3/2- "Cat in the Hat"- Wear hats and/or red and white Thursday 3/3- "Fox in Socks"- Wear mismatched socks and/or shoes Friday- 3/4- "Oh the Places You'll Go"- Wear college apparel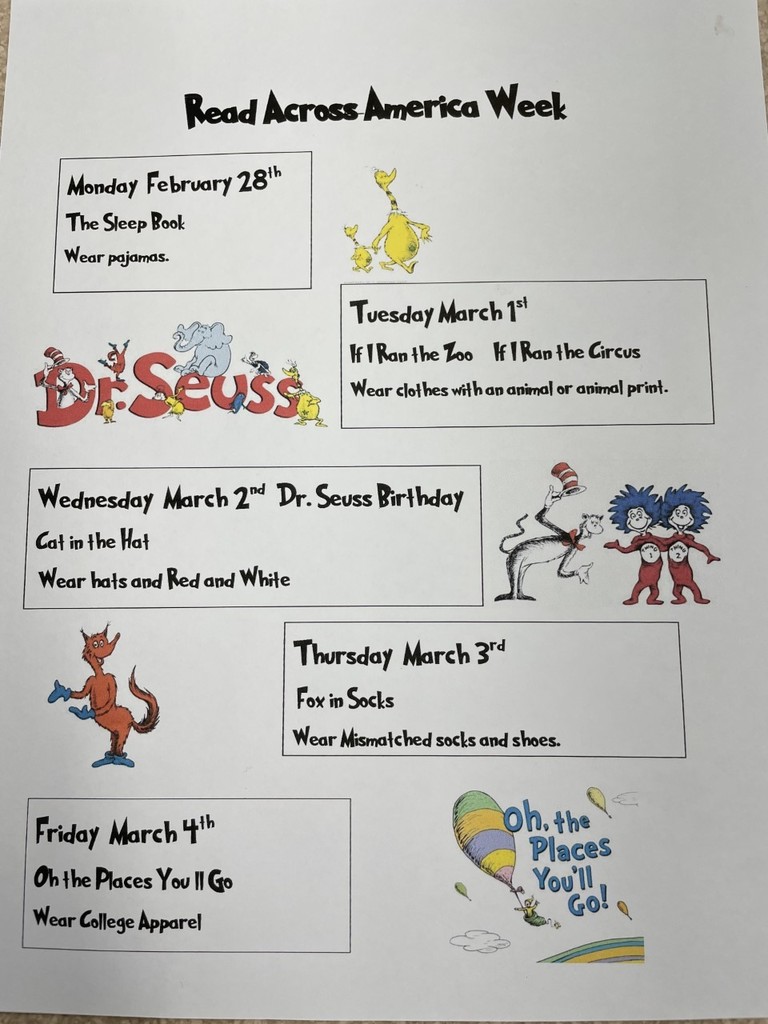 Mark you calendars, we hope you will join us for this fun, free, family event! Hosted by the Conner Street Elementary School's Title I program, we invite families to discover the love of learning through hands on activities for everyone! Activities will include math centers and literacy stations! We will be having a Family Night for students in K-2 on Tuesday February 8th, and students in 3rd through 5th grade on Thursday, February 10th. In order to help with social distancing, we are asking that each family select a timeframe that works best for them, in order to limit the number of people in the school at one time. Please look for these flyers to come home with your student and return the form by January 28th to register. If you have questions, please contact any of our Title I teachers or call the office at 304.562.9351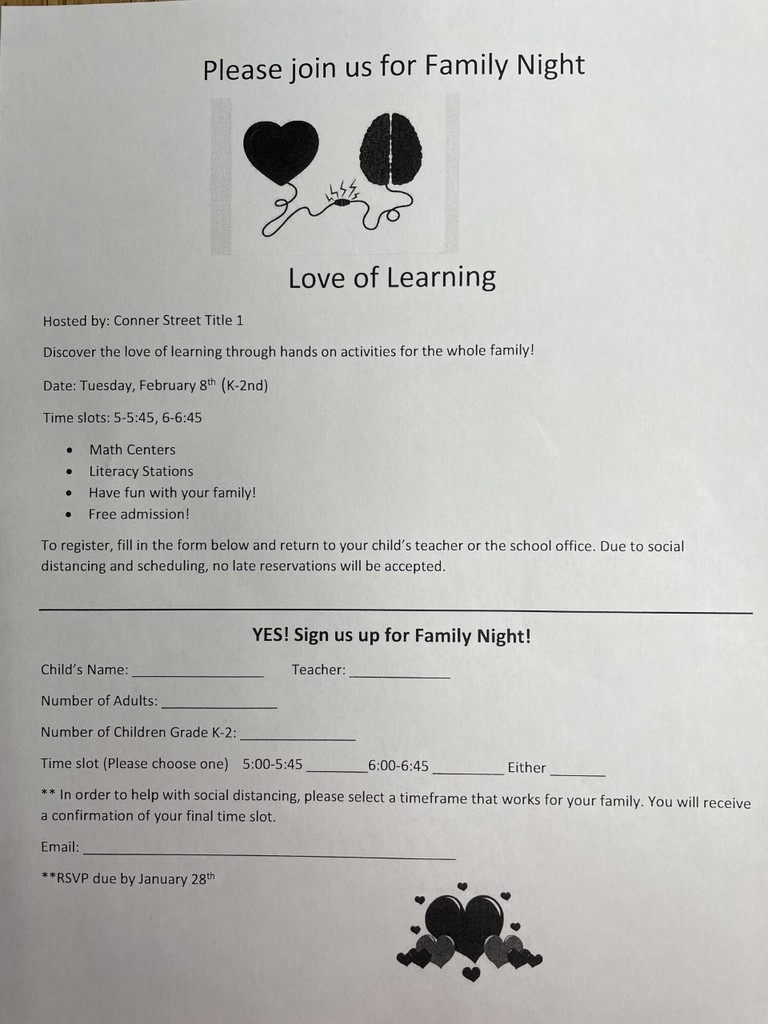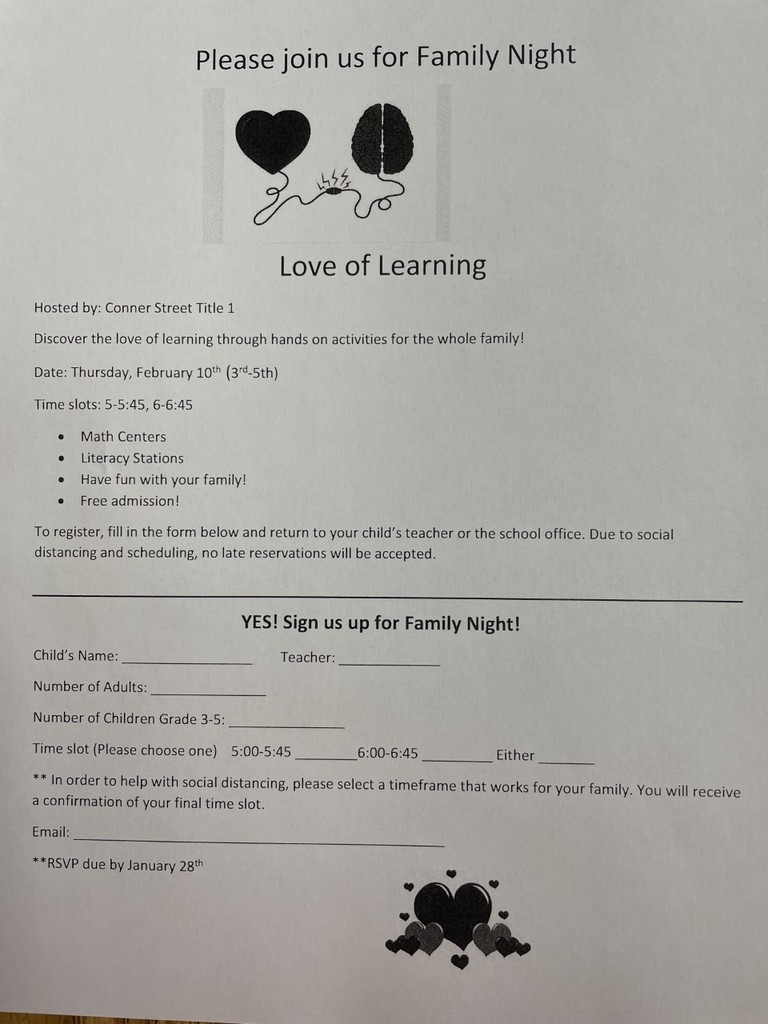 Braves, I have exciting news! We have teamed with JJ's logos in Hurricane to create a CSE "swag" store fundraiser. The link is below. The prices are reasonable for quality products. There are short sleeve t-shirts($14), long sleeve t-shirts ($17), women's t-shirts $15), hoodies ($25) and crew neck sweatshirts ($21). Other shirt/hoodie styles are also available. There are three logo options: 2 CSE and one Hurricane.
http://cse.spiritsale.com/
This fundraiser is completely online, so please do not send money to the school. The orders will be delivered to the school (or you can choose to have them shipped or you can pickup directly from their shop). All orders must be submitted by Friday, December 3rd. We anticipate the orders being delivered before our holiday break. If you have questions, please email me at
cmcderment@k12.wv.us
We appreciate your support!

Hello, Braves! We have an exciting (and super easy!) fundraiser scheduled for April 6th. Order from a selected menu at Applebee's in the valley between 11am-11pm and 50% of the sales for those items will be donated to CSE! You don't have to mention CSE or show a flyer! Help us raise money for new playground equipment. See the attached flyers.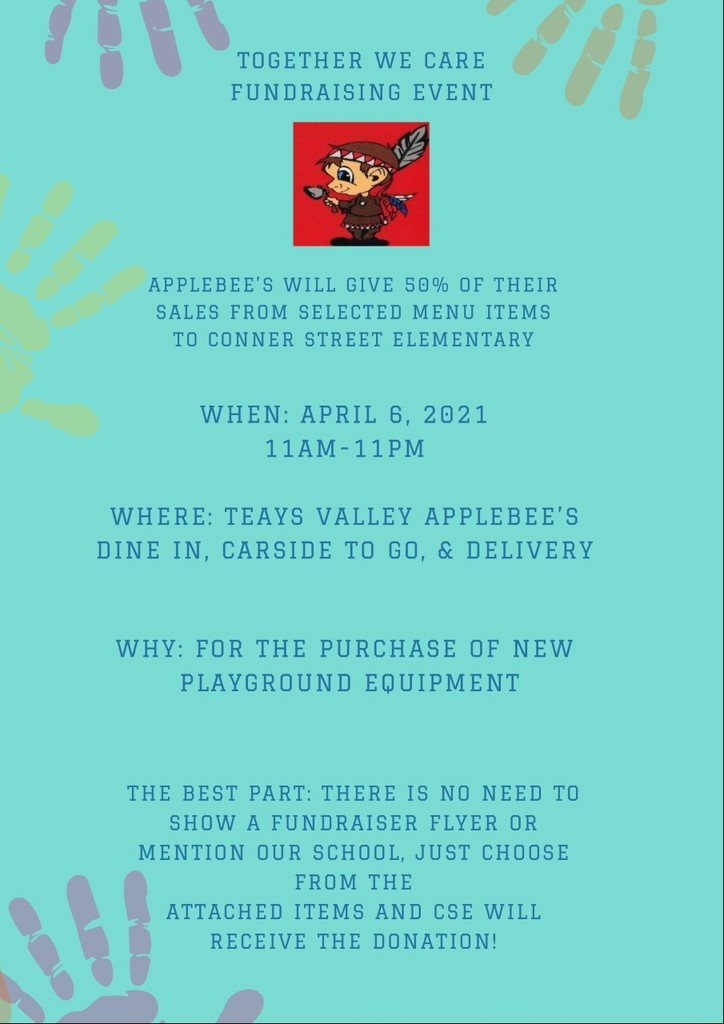 To view a current snapshot of your child's grades: • Log in to Schoology using the parent account • Click Grades • Click Grade Report • Click Download Student Report • Select Grading Period 20-21 Third 9 Weeks • Click Next • Click Select All • Click Submit To receive a Weekly update which features current grades, attendance, overdue submissions, upcoming assignments and recent activity, please follow these steps for each child: • Log in to Schoology using the parent account • In the upper right hand corner, click on your name first, then click on your child's name • In the upper right hand corner, click on your child's name and then Settings • Click on the Notifications tab • Turn the Email Summary on and setup the weekly repeat • Select time and day of week to receive email • You may also turn on the notification for Overdue Submission alert • Be sure to click Save Changes when complete

Time to order Yearbooks! It's that time of year again- Yearbooks are on sale! Order forms should be coming home this week, and there is also an online platform where you can order and pay for your yearbook. They are $18 and the order deadline is 3.19.2021. ybpay.lifetouch.com ID Code: 13653921

Parents/Guardians, If you wish to change the instructional delivery model that your child is currently receiving, please call the school between the dates of March 8 - March 12 . Requests made outside of this window cannot be guaranteed. Students whose platform changes, will begin with their new platform on April 5, 2021. As always, if you have any questions or concerns, please contact the office.

PreK Registration- March 12th, 8:30-11:00 and 12:15-1:45. Packets must be picked up PRIOR to Registration day and have it COMPLETED when they officially register on the 12th. We CANNOT register a student unless the packet is complete. Call the school office 304-562-9351 to make an appointment if you haven't already done so. Registration is a drive thru process and should take approximately 15 minutes to complete. To register, parents will need to go to
http://www.putnamschools.com/
, menu, parents, Pre-K and click the link for registration.

Kindergarten Registration- Conner Street Elementary is now scheduling appointments for you to register your child for the 2021-2022 school year. Your child must be 5 years old by July 1st, 2021 and reside within our school zone. Please call the school at 304-562-9351 to make an appointment for either Tuesday, April 6th or Wednesday, April 7th. Unfortunately, due to Covid-19, we will not be having a meet and greet this year with the kindergarten teachers and your child does not need to attend the registration. Spread the word if you know of someone needing to register at Conner Street.

Picture Day is Coming March 8th- Virtual Students can come between 12:15-1:30pm for their pictures. Only students will be permitted in the building. We won't be getting new order forms, so the date may be incorrect on your form, which will be fine. The code for the online ordering has not changed.

Putnam Distance and WVVS students. There is a safety default setting that requires students to log in to the network about once every six months to activate windows. If a student has been in school and has accessed our network, they are fine. The students who received a device and have not logged into the network who are having the issue. Several calls have come to the Help Desk today regarding this activation message. To fix this problem, students need to go to any Putnam County School and access the network using the school WiFi or Kids Connect. This can be accomplished without coming into the building. Students may be asked to re-start once they are connected.

FREE MEALS AVAILABLE FOR ALL PCS STUDENTS: This meal service is free of charge and available for ALL students, whether or not enrolled in the meal benefit program. Therefore, we encourage all families to take advantage of this opportunity. Daily pick-up times for meals are from 11:00 am - 12:30 pm at each school. Families will pick-up meals at their students' home school location, curbside while remaining in the vehicle. If transportation is a problem, families may contact their home school to request meal delivery assistance.

The deadline for purchasing the insurance plan for the student iPads has been extended until December 31, 2020. Please visit
www.schooldevicecoverage.com
for more information.

Conner Street Title I Presents " Night at the North Pole" Join us for a DRIVE THRU experience where your child will receive a gift along with Reading and Math activities and snack. Special character s from your favorite Christmas books may even join in on the fun! Conner Street Elementary Parking lot 4:30 - 6:30 Tuesday, December 15th, 2020